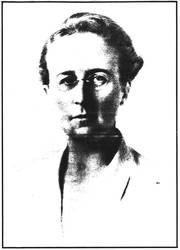 Grace Hadow (1875-1940) read English at Somerville College and gained firstclass honours in 1903. She taught at Bryn Mawr and Lady Margaret Hall, and edited/wrote the Oxford Treasury of English Literature, Chaucer and his Times, and volumes of essays on Addison and Goldsmith. Alongside her scholarly work she developed a life-long commitment to adult education for the study and promotion of social welfare, particularly in rural areas. From these interests came her secretaryship of Barnett House (Oxford's new centre for social and economic studies and social work training) and her founding of the Oxfordshire Rural Community Council, the first body of its kind in Britain. Her time (1929-1940) as Principal of the Society of Home-Students saw the Society build for itself (with Mrs Hartland's benefaction) for the first time, and move firmly in the direction of the collegiate status achieved in 1952. She died in post of viral pneumonia at the age of 65.
Grace Hadow, was also known to be a strong supporter of the suffragists*. As a young woman she was an English Tutor at Lady Margaret Hall, but gave up residence in Oxford in order to live with her ailing mother in Cirencester. There she was active in a local branch of the NUWSS, and it is particularly fitting that our current Principal, Helen King, was invited to unveil a blue memorial plaque on Miss Hadow's former home in Cirencester on 6th February 2018 – the very date of the centenary of the Representation of the People Act. In 1917, after the Speaker's Conference on Electoral Reform issued its report recommending that the vote be given to women in some form, Grace Hadow wrote, "It feels quite odd to think that possibly – even probably – before long people will neither shout with laughter nor throw things at one if one mentions women voting. I am glad to belong to a generation which has been stoned – not because I like being stoned (it is tiresome, and often messy), but since some women had to go through that to win the thing, it is a bit of luck not to have been out of it entirely…..In years to come it may interest people to realize that before the War numbers of law-abiding and peaceful women like myself, quite inconspicuous members of a political party, got to take being mobbed and insulted as part of the ordinary day's work…Now the War has brought us to a peaceful recommendation that at least some women should vote".
She was also vice chair of the National Federation of Women's Institutes and retained this post for the rest of her life.
https://www.thewi.org.uk/about-the-wi/history-of-the-wi/the-origins
*Suffragists not suffragettes – important distinction as the suffragists were less militant.