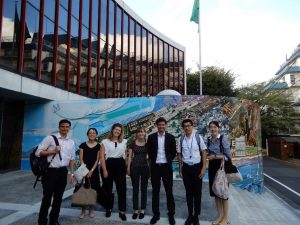 St Anne's is the only College within the University to organise such a wide range of exciting paid internships for its students.
Our aim at St Anne's is to prepare all our students for life through the range and intensity of the career development opportunities we provide. We organise many career events throughout the academic year, and work with a range of companies to offer paid internship opportunities exclusively to St Anne's students.
Internships are based in the UK, Serbia, India and Japan.
WHY DO AN INTERNSHIP?
Gain valuable work experience, skills and insights into certain industries
Great way to network and make professional contacts
Improves your CV
Opportunity to travel and experience other cultures
Helps you choose your next career steps
WHEN DO THEY TAKE PLACE?
During the Long Vacation (summer holidays)
Applications are made during Hilary Term each year (January / February)
Duration of between 4 and 12 weeks
Please see more internship details below and to the right.
Any questions? Please email Christine Robertson at internships@st-annes.ox.ac.uk
VACATION LABORATORY STUDENTSHIPS
We also offer the following Vacation Laboratory Studentships. These are designed to fund the living costs of undergraduate students undertaking research in laboratories over the summer vacation (the placements themselves must already be funded, the studentships are there to fund extra costs only):
VACATION LABORATORY STUDENTSHIPS 2021 – six offers of up to £240 per week for up to 6 weeks
DR STANLEY HO VACATION LABORATORY STUDENTSHIPS 2021 – two Centre for Personalised Medicine Studentships worth up to £240 per week for up to 8 weeks. These are for laboratory based work that is personalised medicine-related.
Please see this information sheet for details.